Evaluating Graphics Mill
If you want to evaluate Graphics Mill before making a purchasing decision you can register a trial license key. A trial key allows you to use Graphics Mill without any limitation during the 30 day evaluation period.
Note
The evaluation version of Graphics Mill is the real deal. It doesn't have limited functionality. So if the evaluation version does not work properly, we highly encourage you to create a support case and tell us about the problem.
Graphics Mill requires the test environment where you are going to conduct your evaluation to have access to the Internet. In order to request and register a trial license key use the Graphics Mill License Manager which is distributed with the product:
If you downloaded

Graphics Mill

from www.graphicsmill.com, find LicenseManager in the

Graphics Mill

instalation folder - Aurigma\Graphics Mill

10

SDK\LicenseManager.
If you downloaded

Graphics Mill

as a NuGet package, launch LicenseManager located in packages of the project solution - packages\Aurigma.GraphicsMill.Core.x86.

10

.x.x\tools\LicenseManager.
After launching LicenseManager, you will see the following dialog: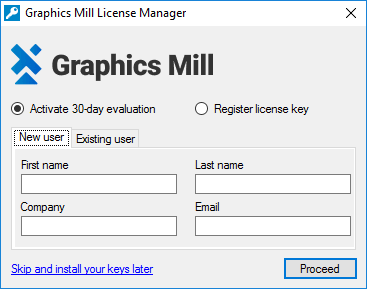 If you have not registered on www.graphicsmill.com yet, open the New User tab and enter your name, company, and email. If you have been registered on www.graphicsmill.com, open the Existing User tab and enter your email and password:
After you press the Proceed button, you will be redirect to www.graphicsmill.com stating your license key and when it expires. The tool requests a trial key (or obtains an existing one) and registers it in your system. If a trial license key cannot be obtained or registered for some reason, please contact our support team.
Note
You are able to request up to two trial license keys.
After you purchase Graphics Mill, you obtain a production license key. You can find detailed instructions on how to register a production key in the Registering Production License Keys topic.